I love tilapia because it is relatively inexpensive and is a nice change when all we have had for a while is a chicken/hamburger rotation. I love pasta with marinara type sauce. It is so yummy and a sort of comfort food to me. I thought it would be so good to make some tilapia with mushrooms pasta and a marinara type sauce. Tilapia has such a unique flavor because it is not very fishy so you can try it with so many different flavors and spices and it is almost always delicious.
My husband went crazy for this dinner he loved it and normally does not like marinara sauce at all on pasta. But I think he ate every single bite on his plate :) We had it again the next night and probably will have it with the rest of our tilapia in the freezer. I think this recipe could be a good one if you invite the neighbors over…make them think you are a gourmet chef! (I like to pretend that I am…ha.)
Don't let this intimidate you. This was so quick and easy! If you feel a little stressed make some of my homemade chocolate milk to drink while you are cooking it..problem solved!
Ingredients:
2 Tilapia Fillets
2 Tablespoons Oil
6 Medium sized mushrooms sliced
1 clove garlic minced
1/3 cup milk
1/2 tsp oregano
1/2 tsp basil
1 Tbsp Sugar
1/2 tsp salt
1 can diced tomatoes
Your favorite kind of pasta cooked-we used fettuccini
First start your pasta and pre-heat your broiler on high
Shake some salt and pepper over the tilapia and broil on high for about 8 minutes.
While the tilapia is broiling heat the oil in a large skillet. Add the garlic and mushrooms to the oil and brown over medium heat for about 3-4 minutes watching the garlic to make sure it does not burn. Then add all other ingredients: tomatoes, milk, oregano, basil, sugar, and salt. Simmer for about 5 minutes.
Put your pasta on a plate, then the tilapia and finally the sauce. Top with parmesan cheese and voila! You are a gourmet chef! Your meal is being requested by the queen of England and you are being flown over on an all expenses paid vacation to prepare it for her. Lucky for you she is vacationing in the Caribbean when she wants the meal so that is where you get to go! Sounds great right? Crazier things have happened! Right? Okay maybe not…but you can imagine you are in the Caribbean while you eat your delicious fish!
Tips from Kj:
If you are not much of a fish eater you can also make this with chicken!
Or if you are a seafood eater and you want to make a nice Valentines day impression make this with SHRIMP!! Big juicy expensive shrimp :) Yum!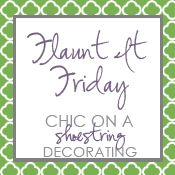 I'm also linking at
Tater Tots and Jello
Pin It